Welcome To Miracle Studies
A COURSE IN MIRACLES Resource Web Site for ACIM Students
Introduction to A Course in Miracles

The following words from the Introduction to the Text of A Course in Miracles are probably the most frequently quoted words from the Course. They sum up the essence of this profound work and carry implications which are not at all apparent to most upon first reading:

The course does not aim at teaching the meaning of love, for that is beyond what can be taught. It does aim, however, at removing the blocks to the awareness of love's presence, which is your natural inheritance. The opposite of love is fear, but what is all-encompassing can have no opposite.

This course can therefore be summed up very simply in this way:

Nothing real can be threatened.
Nothing unreal exists.

Herein lies the peace of God.

CLICK HERE TO ORDER
THE COURSE AND RELATED PUBLICATIONS



Teaching A Course in Miracles

The official teaching organization for A Course in Miracles, and sister organization to FIP, is the Foundation for A Course in Miracles® (FACIM) which maintains a large Web site containing a wealth of teaching materials: http://www.facim.org/~facim/teach.htm





CLICK HERE TO VIEW CATALOG
AND ORDER FACIM PUBLICATIONS



This Web site - Resources for Study of ACIM

This Miracle Studies site is an international, networked collection of resources which may be of interest to students and teachers of ACIM regardless of experience. The table of navigation links at the bottom of this page, found on every English language page of the site, provides a convenient means for exploring the resources of this site. The national flags at the top of the page link to versions of this site in other languages. In addition, below is a search engine to help locate articles, definitions, Web sites, authors and topics regarding various Course subjects.



Describing ACIM

A Course in Miracles has been characterized in various ways. A few of these are: "Among the most important twentieth century works written in the English language," "Replaces the Bible," "A kind of Christian Vedanta," "A contemporary form of the 'perennial philosophy," "A Satanic Work," "New Age spirituality," and "Old fashioned, self-deluding Christianity."

Students of Zen Buddhism see similarities between their spiritual understandings and approach, and that of the Course. Others find in it a message which is similar to that of J. Krishnamurti. Students of the Koran may appreciate that the Course acknowledges it is only one of many spiritual paths which all have the same goal of love and peace among all of humanity, who are brothers in one God.

In the preface to the ACIM Text, which Helen Schucman wrote about a year after A Course in Miracles had been published, she stated: "It is not intended to become the basis for another cult. Its only purpose is to provide a way in which some people will be able to find their own Internal Teacher." (Text, Preface, p. viii )

Being able to access that "Internal Teacher" is central to allowing forgiveness to guide ones life in the world, hence to be at peace and of service. The Course is not about making a better world, but it is about making a more peaceful human being through the agency of spirit and the memory of the Love of God that the "Internal Teacher" holds for all in that part of spirit called "mind." A better world will occur when minds are healed of their ego beliefs in separation and competing interests.



An International Search Engine for Miracle Studies

To find information about the Course as contained in this growing Miracle Studies collection of Web sites and pages, enter a key word or phrase in the search box.

___Navigation Table___
~~~~~~~~~~~~~~~~~~~~~~~~~~~~~~~~~~~~~~~~~~~
A Course in Miracles©, copyright 1985, 1992, 1996
by the Foundation for A Course in Miracles
41397 Buecking Drive
Temecula, CA 92590-5668
909-296-6261
Published by the Foundation for Inner Peace
P.O. Box 598
Mill Valley, CA 94942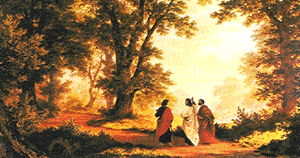 Powered by WebRing.